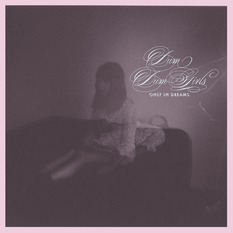 Dum Dum Girls
' fantastic sophomore album
Only in Dreams
finds lead Dum Dum
Kristen "Dee Dee" Gundred
in a far more serious mindset, as she wrote it while coping with the loss of her mother. That feeling of loss and mourning permeates all ten of the record's songs in different forms, mutating in to reflections on relationships past and passed over. This theme may read heavy on paper, and could threaten to sound as such on record. Fortunately, with her more seasoned band and more professional production, the album conveys the weight of its emotion while playing as light and lovely as an autumn breeze. It combines the honeyed melodies of
The Shangri-Las
, the propulsive rhythms of
The Go-Gos
, and the lyrical sincerity of
The Pretenders
.
Transforming into a true front woman, Gundred's more confident vocals and mature words lend songs like the gorgeously haunting and tender closer "Hold Your Hand" a powerful emotional punch. It may now rival "Rest of Our Lives" as the group's best ballad, if not best song altogether. Losses and longings of other, more romantic kinds are portrayed with the same conviction across the album's 9 preceding tracks. The brisk, bouncy one-two punch of "Always Looking" and current single "Bedroom Eyes" open the record with her trying to fill a void in her bed as well as her heart. Meanwhile, the
Neko Case
-meets-
Mazzy Star
sprawl of "Coming Down" finds her looking for one final feeling of validation before she leaves an unworthy lover behind. She is blessed and backed with assertion by her bandmates, whose cleaner, tighter interplay add just the right amount of sweetness to the sobering subject matter.
I doubt that Kristen intended, as some have speculated, to pay tribute to
Weezer
with its title--Who knows? Maybe she did--but
Only in Dreams
does recall that group's
Pinkerton
penchant for making loss listenable. While I certainly wouldn't wish such setbacks to keep happening to her, it's a wonder how she can spin greatness from grief. In coming down, she has achieved new heights.
Catch Dum Dum Girls on October 23rd at
Union Transfer
.