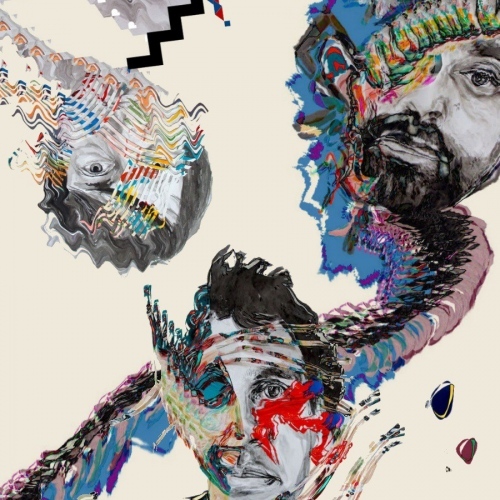 Ever since their watershed moment back in 2009,
Animal Collective
have sounded restless. Their music never exactly soundtracked sitting still in the first place, but after
Merriweather Post Pavilion
topped various end-of-year (and even decade) lists almost instantaneously upon release, their output seems to be shouting, "look at what else we can do!" On their latest album
Painting With
, it would seem that they're capable of doing pretty much everything else, often on top of what they already did. The results are occasionally exhilarating but often exhausting.
Previous peaks like
Merriweather
and
Feels
felt like cubist
Picassos
; abstract collages that cohered and compelled in unpredictable ways.
Painting With
finds the band shifting into
Pollock
mode, splattering layers upon layers of sounds and ideas, old and new, on top of each other to see what sticks, often obfuscating what could have been some of their most accessible songs to date. A few of them, like lead single "FloriDada" and the
Bea Arthur
-sampling "Golden Gal," are strong enough to shine through the splatter, but the dichotomy between mess and melody costs them their nuance. Whereas the chorus of their signature single "My Girls" washed over you like a warm ocean wave, these pelt you with the blunt splash of a water balloon. That's not to say that such a sensation can't be pleasant in its own way.
One's enjoyment will depend on the fan. I personally would have liked to see more of the restraint and unity that
Panda Bear
has demonstrated on his recent albums in play here. This is a band that has proven capable of great things. This album proves they still can and do all those great things, sometimes all at once.
Donate $20 or more to Y-Not Radio this week to receive a copy of Painting With as our thank you gift. Click here for details.