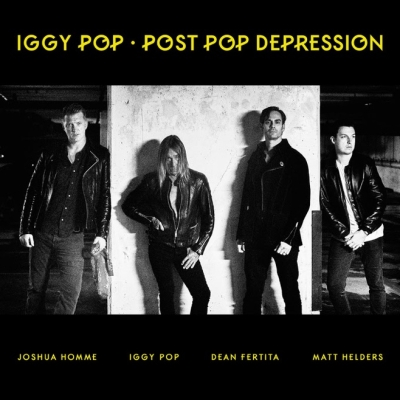 Shortly after the passing of his longtime close friend
David Bowie
,
Iggy Pop
announced a surprise new album titled
Post Pop Depression
. Iggy and Bowie's careers will forever be entwined and as many have said, given his lifestyle and reputation in the '70s, it's amazing that Pop is the one still with us today. The last few solo albums in his very eclectic career were jazzy records sung in French but his latest left turn teamed him up with
Queens of the Stone Age
leader
Josh Homme
. Pop headed out into the California desert and recorded a rock album backed by Homme,
Dean Fertita
(QOTSA,
The Dead Weather
) and
Arctic Monkeys
drummer
Matt Helders
.
First and foremost,
Post Pop Depression
feels more or less like Iggy fronting Queens of the Stone Age. Homme's guitar sound, melodies and backing vocals are so instantly identifiable, it's hard not to hear it at times as QOTSA with Iggy's vocals placed on top.
Lead single "Gardenia" proves how much the pair have in common, especially with their respective talent for a clever/creepy turn of phrase. Who else could get away with a lyric like, "America's greatest poet was ogling you last night."?
The centerpiece of the album is "Sunday," with
Television
-esque guitars over a funky groove and Iggy speak-singing lines about how "This house is a slick as a senator's statement." Then a choir of female backing vocalists appear halfway through and the last minute of the song takes a left turn into a string arrangement, building the tune up to a 6+ minute epic. "German Days" is a tribute, musically and lyrically, to Iggy's days with Bowie in the '70s making
The Idiot
and
Lust For Life
.
Post Pop Depression
wraps up with "Paraguay." If this is Iggy's last album ever, which he's hinted at, he's saying goodbye with a foulmouthed kiss-off to modern society. After singing about his desire to disappear to South America, Iggy wraps everything up with a rant about getting away from "so much f***ing knowledge" and "f***ing" phonies" with their laptops. There's no other way the last song on the last Iggy Pop record could or should possibly end.
Iggy, Homme and co. will play a special show at the
Academy of Music
on April 15th, which may be the loudest concert the venue has ever hosted.
Donate $15 or more to Y-Not Radio this week to receive a download of Post Pop Depression as our thank you gift. Click here for details.