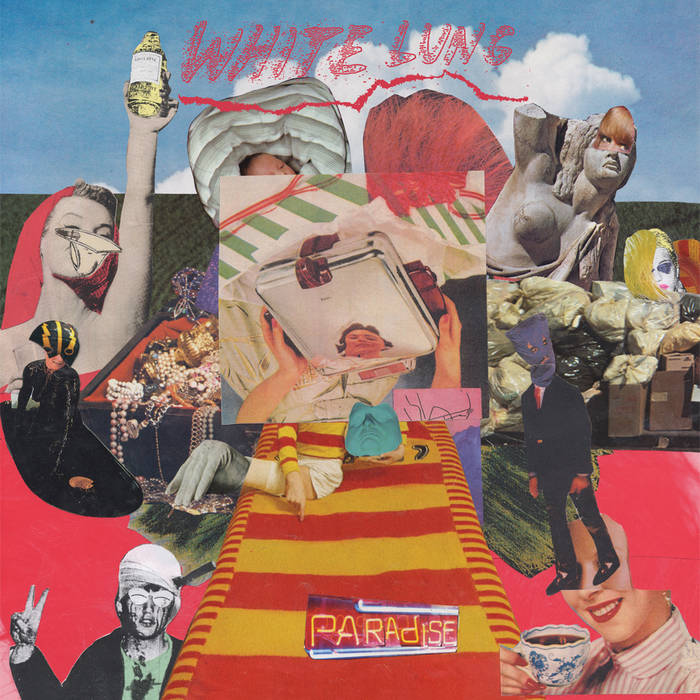 In an interview earlier this year with
Annie 'St. Vincent' Clark
,
White Lung
's
Mish Barber-Way
denounced the 'really stupid attitude that only punks have where it's somehow uncool to become a better songwriter.' Not that songwriting was ever a problem for her, as evidenced by 2014's ferocious, feminist punk manifesto
Deep Fantasy
. However, after destroying audiences (and her vocals) on the tour behind it, Mish, guitarist
Kenneth Williams
, and drummer
Anne-Marie Vassiliou
set about making something simultaneously more accessible and more ambitious. Paradise finds them delivering their previous wrecking ball sonic assaults with the focus of a precision-guided missile. This allows more attention to be paid to the aforementioned lyrics, which explore and expand what it means feminist, punk, and feminist punk in challenging and exciting ways.
After exploring topics like rape culture and addiction through her personal lens on
Fantasy
, Barber-Way branches out to embody not only different takes on her own life but the lives of different women. Two of those women happen to be real-life serial killers
Karla Homolka
and
Rosemary West
, humanized and mythologized on highlights 'Sister' and 'Demented,' respectively. When she returns to her own personal narrative, the results are even better. The closing title track is a defiant declaration of devotion to her husband that's just as potent and provocative as any screed against the patriarchy. The music matches these narratives note for note in versatility and volatility, sounding downright pretty in contrast to previously conceived notions of punk. 'Below' is the biggest revelation in this regard, glimmering to life with goth pop guitars worthy of
The Cure
before Barber-Way chimes in with her newly trained and restrained singing to evoke the peak performances of
Emily Haines
.
More predictable punk screeds against beauty, celebrity, and the body politic continue to punctuate
Paradise
's great leaps forward, and like on Deep Fantasy, they continue to pierce and seer with a passion that makes such issues feel brand new. The fact that so many people actually treat these issues as new no doubt fuels the fury in that regard. That White Lung can continue to attack such subject matter with the same confidence and creativity as the new speaks volumes to their vitality as one of our great current rock bands.
Paradise
is still packed with serpents old and new, and we need more bands like White Lung to scare them out. Catch them at
Boot & Saddle
on August 1.