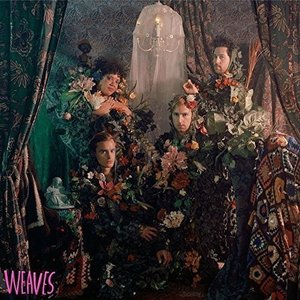 Ostensibly,
Weaves
fit the standard, four-piece rock band format. But, the Toronto quartet twist and turn their music into angular blasts of love and longing with a sense of character. Strung together by frontwoman
Jasmyn Burke
's twangy voice, their self-titled debut supercharges art-rock with a frenetic energy. Even as its tracks deconstruct into polyrythms and whirring, overdriven guitars, it maintains a gleeful accessibility and playfulness.
Many of the collection's biggest risks are amongst the exuberant exchanges between instrumentation. Guitarist
Morgan Waters
' searing and colorful guitar lines become a choir of their own on "Tick" and "Two Oceans," pairing tonal charisma with a wallop of intensity. Much like their current Toronto counterparts
Dilly Dally
, the group's vivacious roar of sound is enough to tastefully melt faces on "Candy" and "One More." "Coo Coo," arguably the record's strongest track, confidently blends the best the group has to offer on all sides into a slightly off-kilter brightness. Weaves' self-titled debut is an ode to wanting that dives deep into their vibrant world of art-rock. Immerse yourself in that world when Weaves comes to town on Friday, August 26th for a show with Philly's own
Cayetana
at
PhilaMOCA
.