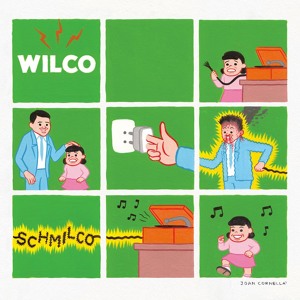 Almost exactly a year after
Wilco
's surprise album
Star Wars
, the veteran band has released a companion record of sorts: the amusingly titled
Schmilco
(a nod to the late
Harry Nilsson
's 1971 release
Nilsson Schmilsson
). The 10th Wilco album comes as part of a prolific few years for main man
Jeff Tweedy
. These songs were mostly written around the same time as
Star Wars
and the band opted to split off the noisier cranky tracks into the first album and save the more contemplative, quieter songs for
Schmilco
.
Schmilco
kicks off with the folksy 'Normal American Kids,' which is a look back at growing up feeling like an outsider. There are
Dylan
vibes on 'Nope' while 'If I Ever Was Child' is a lovely, melodic song, but this album can't simply be described as 'the acoustic Wilco record.' 'Common Sense' features spidery guitar work from
Nels Cline
that overtakes the song about halfway through. 'Locator' is the closest to the
Star Wars
sound, as well as a commentary on how technology follows our every move. There is a sense of humor throughout these mellower songs, with smirky song titles like 'Shrug and Destroy' and 'We Aren't the World.'
Perhaps the best song on
Schmilco
is 'Someone to Lose.' Its chorus of 'I hope you find someone to lose someday' that could interpreted as sarcastic but is more likely about having someone you love so much that you will have to face losing them one day. It is the most 'classic' Wilco song on here, with
John Stirratt
's nimble bass as the foundation. It could have fit way back on
Being There
or maybe
Sky Blue Sky
, especially when Cline's guitar kicks in.
Tweedy has sung in a more muted style since his
Tweedy
side project record in 2014, which he continues here. You could make a comparison between
Schmilco
and
Radiohead
's latest album
A Moon Shaped Pool
, especially since Wilco were once described as 'the American Radiohead.' Both albums are arguably each band's quietest yet, but Tweedy's low-key vocals are still front and center as
Thom Yorke
increasingly disappears into a fog.
Wilco have taken a long and winding road getting to their status as elder statesmen of the rock world. At this point, they've certainly earned the freedom to record and release whatever they want, whether its songs about Google Maps invading your privacy or meditations on loss and death.