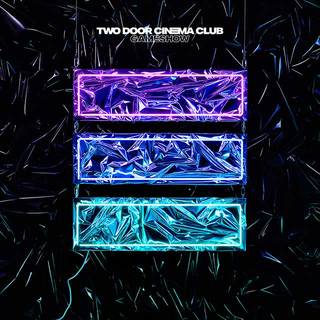 Irish rockers
Two Door Cinema Club
have brought the beat with their latest record,
Gameshow
. The album opens with the lead single, 'Are We Ready? (Wreck),' which sets the tone for what to expect. It offers a healthy mix of prominent synth, uplifting melodies, thumping bass, and an unending beat that makes it virtually impossible to sit still while it plays.
Gameshow
finds its inspiration from a time when the band was physically and mentally drained from the rigors of touring, and the lifestyle that took them into a downward spiral. 'Bad Decisions' opens with lyrics that reflect the period. 'Save me, I've been drinking wine, and I just made a big mistake. It happens all the time,'
Alex Trimble
sings. The song serves as a cry for help from a man who unwillingly became the cliché, drug-riddled rock star. The theme continues in later track 'Good Morning,' where Trimble cries, 'I'm a sinner, I'm the victim, I'm an alien when I'm myself. I'm a healer, I'm a fixer, I'm a present danger to my health.'
Other standout tracks include 'Gasoline,' 'Ordinary,' and title track 'Gameshow,' in which the most driving bassline of the record leads into a chorus full of crunching synth and an unforgettable melody.
The most striking piece of the album is the infusion of indie rock with EDM, almost a callback to the disco era. Trimble claims his biggest influences were
Prince
and
David Bowie
, but with songs like 'Je Viens De La' it could be transplanted to the 1970s with a place on the soundtrack for
Saturday Night Fever
, but it still does 2016 justice.
Hear the new Two Door tunes in person when the band headlines
The Fillmore
on November 19th.