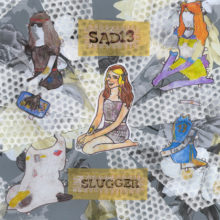 Singer
Sadie Dupuis
hit pause on her band
Speedy Ortiz
to release her first solo album as
Sad13
, a name derived from her own name (SadIE), and how it feels to be a sad 13 year old.
Slugger
is a much needed Public Service Announcement for a time when the obvious does not seem so obvious. Reflecting on the social climate and personal experiences, Dupuis has put together a virtual how-to guide of treating women and how women should expect to be treated. On her website, she writes, "I wanted to make songs that put affirmative consent at the heart of the subject matter and emphasize friendship among women and try to deescalate the toxic jealousy and ownership that are often centered in romantic pop songs."
Self-help is nothing new for Dupuis. As a band, Speedy Ortiz created a hotline for concert goers to report harassment at their shows, promising to work with the venues to weed out destructive attitudes. Now solo, Dupuis moved to the Fishtown neighborhood of Philadelphia for a test run of the city (and now resides in West Philly), and took two weeks to write the album. The original idea was to shop each demo to a different producer, but she smartly chose to record and self-produce the entire thing: a fitting process for such an empowering set of songs.
Without her band, Dupuis had a chance to get personal.
Slugger
was produced on her computer in a tiny bedroom, and the upbeat synth elements and dance-pop drum machine loops reflect that. So don't expect an album full of speedy guitars and shoegaze fuzz. "Just a Friend," a not-so-subtle retort to
Biz Markie
's karaoke favorite of the same name relies heavily on squeaky synth. The single "Get a Yes" features an array of effects that sound like
Ace of Base
and is the essence of the album, stating "I say yes if I want to / if you want to, you gotta get a Yes." But there are reliable constants. You can't change her
Aimee Mann
-like vocals, best on display in the chorus of the swaying, sing-songy "The Sting." "Line Up" is a fun, rollicking song that still employs trademark fuzzy guitar. And the opening song, "<2," could have been lifted from any previous Speedy recording session.
This is an album to enjoy both sonically and literally. But in a time when women's rights still (unbelievably) need to be an agenda, lyrics matter the most. If one person hears this and becomes empowered or if it changes someone's mind, a battle is won. In "Hype," Dupuis sings "call me warrior, non-pejorative / That's the shoe that fits / and I'm still gonna wear 'em dancing." Dupuis has become a warrior for a worthy cause. If you agree, go dance with her when she plays her backyard at
The First Unitarian Church
on February 24th.
**Donate $20 or more to Y-Not Radio to receive a copy of Slugger on CD or vinyl. Click here for details.