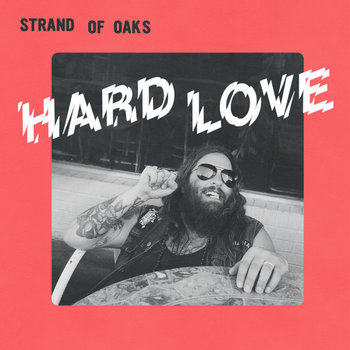 Philadelphia resident
Tim Showalter
's musical alias
Strand of Oaks
took a major leap from the folk-rock of his earliest releases to wide-screen indie rock on 2014's
HEAL
. After boosting his profile with the critically acclaimed record, he's back with another raw, introspective album with the amps cranked up all around the emotion.
Our first taste of
Hard Love
was the amazing "Radio Kids," one of the best songs thus far in 2017. Hat-tip to
Stereogum
for perfectly describing its sound as
Dinosaur Jr.
-meets-
Ryan Adams
. Showalter pines for the nostalgia of growing up listening to the radio, wistfully remembering when "I had my headphones on and my parents'll never know." However, "Radio Kids" stops short of being a complete romanticizing of the past when he notes that "Now it's just kids repeating / Maybe I'm as bad as them."
As for those radio songs he grew up on, the influence is most obvious on "Everything," full of grunge-era feedback and
Nirvana
melodies, right down to the hint of
Kurt Cobain
in Showalter's voice.
In recent interviews, Showalter has said the songs on
Hard Love
were inspired by some rocky times with his wife (the title track), the wild life while touring behind
HEAL
("On the Hill") and a health scare from his brother
Jon
, who spent two weeks unconscious in a hospital in 2015 ("Taking Acid and Talking to My Brother").
Hard Love
is dedicated to his brother as well. Other highlights of the album are the mournful, plaintive piano tune "Cry" and "Rest of It," a joyful, blazing rocker that sounds like
My Morning Jacket
playing in of classic bar band.
Hard Love
finds Showalter experiencing a catharsis while wearing his heart on his sleeve and in his music. Join the radio kids at Strand of Oaks' hometown show at
Union Transfer
on March 10th.
**Donate $20 or more to Y-Not Radio this week to receive a copy of Hard Love. Click here for details.