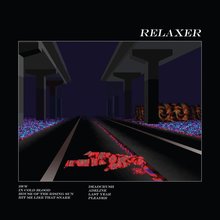 Relaxer
, the newest album from
Alt-J
, has arrived and it is slightly different from their past albums with attempts of new musical ventures and a wide variety of sounds. Â Â 
The British group strays away from starting their third album with an actual "Intro," as they did on An Awesome Wave and This Is All Yours. A steady and peaceful melody sets the tone of Relaxer for over 90 seconds before any vocals come into play on "3WW." A nice bonuson that track is the guest vocals from Ellie Roswell, the powerhouse singer of Wolf Alice.
"In Cold Blood" is arguably the strongest song on the album and is an obvious ode to Truman Capote's classic novel. Like the book, this track provides drama and has a robust, seductive nature to it. The orchestra, especially the brass, really shine through on this song.
It's surprising to hear Alt-J cover the classic tune "The House of the Rising Sun" on this album but they do in a very modern and experimental way. The best known version by The Animals is one you blast in the car with the windows down on a long road trip. The Alt-J cover is one you put on a record player while surrounded by friends to propel everyone in the room into an out-of-this-world revelation. The cover is the perfect segue into the trippy "Hit Me Like a Snare."
Alt-J made up the word "Deadcrush," which the band revealed in a recent interview means 'someone who is no longer living that you're attracted to.' It's a song of admiration that is extremely catchy and approachable. Things slow down with the love song "Adeline," but "Last Year" changes the tone quickly, with vocals from Marika Hackman. This very literal track is about someone's last year on earth. The very last song on the album is "Pleader," which sounds like it could easily be included in a film score. Â Â 
Relaxer seems like it was an enjoyable experiment for the band. While this album may not be quite on the level of An Awesome Wave or This Is All Yours, it has some quality standout tracks.

**Donate $15 or more to Y-Not Radio this week to receive a download of Relaxer. Click here for details.