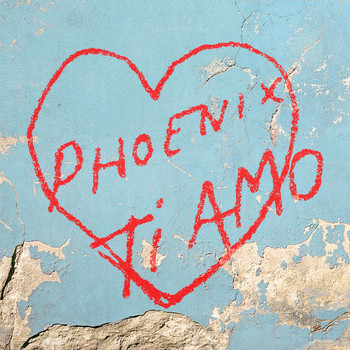 With their sixth record 
Ti Amo
, French indie rockers 
Phoenix
 move even further within the synth-pop groove they've been slinking into since their breakthrough album, 2009's 
Wolfgang Amadeus Phoenix
. There's certainly no sign of those jumpy, jangling guitars from the version of Phoenix we met way back on 
It's Never Been Like That
.
Ti Amo opens with the romantic lead single "J-Boy," slathered in twinkling, shiny synthesizers, while frontman Thomas Mars sings in a lower, purring register on the verses. The disco pulse of the title track ups the Very European feel of the record, as Mars sings about standing by the jukebox playing The Buzzcocks and offering "champagne or prosecco?" In fact, this feels like the most globe-trotting, multi-lingual Phoenix album yet. Song titles and lyrics slip easily between English, French and Italian.
Another highlight is "Tuttifruitti" (not a Little Richard cover), while "Lovelife" mixes in the '70s prog-rock (or maybe '80s sitcom theme?) keyboards. The lounge feel of "Role Model" may be the most obvious example of Phoenix evoking their previous life as Air's backing band. And perhaps the closer "Telefono" is a sequel to their hit "Long Distance Call?"
The band says there is some undertone of current events in here, especially since the record was made in the aftermath of the Bataclan attack in Paris, but this is no Dark Phoenix. Especially since Mars's lyrics are often so inscrutable to begin with.
Ti Amo settles into a slick synth-y groove about halfway through and never fully escapes, opting for atmosphere over any more memorable hooks. However, Phoenix seem more than happy to hold up their end of this Paris agreement and create the soundtrack to your summer.

**Donate $15 or more to Y-Not Radio this week to receive a download of Ti Amo. Click here for details.