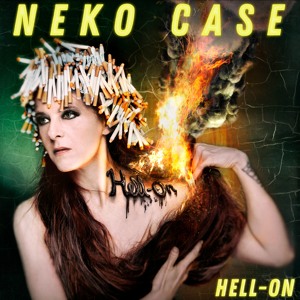 Neko Case
's work tends to feel very curated. Her cover art and her promotional work are as precisely measured as her signature sound, a sort of dark alt-country of the woods. Perhaps that should have been a sign that
Hell-On
wouldn't be a normal Neko Case album. With cover art that would be more at home with an art school amateur than a respected musician and promo videos which speak more to Case's quirky humor than her more serious sound, it seems fitting that the resulting musical package would be among her most varied offerings, if consequently the one which sounds least like what we might expect from a Neko Case album.
At no time, of course, is there any question who is at the helm of this offering. Case's lyrics are incisive and ominous as ever, and her voice is still all crystalline chill. Songs like "Halls of Sarah" are full of the sad, perfect harmonies that are her stock in trade, with a hint of the gothic wilderness that seems to be a part of her soul. "Dirty Diamond" and "Winnie" make bookends for the tornado which is "Oracle of the Maritimes," among her most powerful and unsettling songs, and one of the album's highlights. The three are probably her most "conventional" on the album, though "Last Lion of Albion" could also infiltrate into any previous album, despite a chorus that is pure indie-pop.
Still, it's definitely not the same song and dance as a fan might expect after decades of Case's work. The album starts with the moody carnival waltz of the title track, not an unfamiliar mood, but what feels like a very different venue for it. If "Last Lion of Albion" has a pop chorus, the first single "Bad Luck" is simply steeped in indie jangle and ready for the radio. This also hints at some of what is so different here: Neko Case and sing-along choruses aren't really regular bedfellows and yet "Bad Luck" is easily some of her catchiest work. Certainly, her most enduring work has recurring, indelible lines, but rarely are her songs so structured, relying more on the musical tension of the unresolved. On the other hand, rarely do her songs sprawl like the very next track, "Curse of the I-5 Corridor," full of sparse stretches. It's stunning and aching, and makes one wish for her to write a full album with
Mark Lanegan
His rough voice perfectly complements hers, but it's also unexpected from a musician whose albums are far more likely to feature brief, almost incomplete yet perfect snippets of songs (think of
Fox Confessor'
s "A Widow's Toast" and "That Teenage Feeling") than a 7-minute epic. While there is that span of classic Case as we flip the proverbial platter, it fades again as we reach the end. "My Uncle's Navy" feels more influenced by the '80s, and the textured pulses that introduce "Pitch or Honey" would be equally at home leading up a
Peter
Gabriel
track.
One of the more interesting things about the album is that someone with so singular a voice can fit comfortably into all of these unexpected places. It's perhaps fitting, then, that one of the best songs here begins with
Eric Bachmann
's voice instead of Neko's. It's a cover of "Sleep All Summer" from Bachman's band
Crooked Fingers
, here presented as a duet. Case is no stranger to harmony but it is interesting to hear her taking a supporting role on her own album. Then again,
Hell-On
is constantly all the more interesting for what is unexpected. It's an album that surprises on first listen, but also one which rewards each subsequent one. Neko Case returns to Philadelphia opening up for
Ray Lamontagne
on June 22nd at
Festival Pier
.