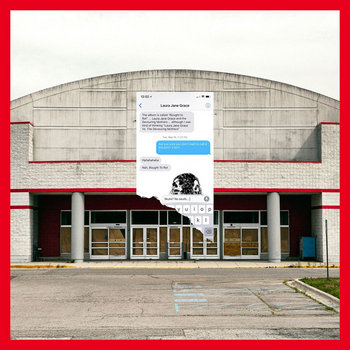 Laura Jane Grace
of
Against Me!
has been a highly prolific artist in recent years, putting out a new album and an autobiography, while her band seems to be always on the road somewhere. With her new solo project
Laura Jane Grace & The Devouring Mothers
, she continues this busy period of music-making while also sidestepping the weight of making a new Against Me! album.
Bought to Rot
simply feels like Grace said, "let's just record some songs and not overthink it." Going into the studio with bassist
Marc Jacob Hudson
and AM! drummer
Atom Willard
, the three musicians quickly recorded the 14-track album. There's a looseness sonically, emotionally and production-wise that you haven't gotten on an AM! record in a long time. Even the cover art shows the more off-the-cuff, low-pressure aspect of this project. You can also tell by the song titles that Grace wasn't trying to overthink things too much (we get "The Airplane Song," "The Apology Song" and both "The Hotel Song"
and
"Amsterdam Hotel Room") and just wanted to get these songs out into the world.
That's not to say this is a lesser or tossed-off project in any way. Grace is still one of the top rock songwriters of her generation and her usual wordiness and knack for catchy punk tunes are all over
Bought to Rot
. The sing-along strummer "Apocalypse Now (& Later)" captures feeling guilty about being happy, or even how to feel happiness, in this era of impending doom and destruction ("the bliss of your kiss in the apocalypse" sums it up well).
"The Airplane Song" soars through the complexities of a relationship where the narrator is "torn between two lovers" while cramming some of Grace's signature detail-oriented lyrics. "Reality Bites" is a classic AM!-style pop-punk track while "Born in Black" is a mid-tempo thrasher.
And then there's the hilarious "I Hate Chicago," where Grace declares her disgust for most of the Windy City's sports teams, deep dish pizza,
Smashing Pumpkins
, its airports and
Lollapalooza
, but admits part of the way through that, "Christ, you caught me, this is just another divorce song."
Musically, the songs aren't as heavy, probably since it's only Laura on guitar instead of the usual double-axe assault of AM! She's also using a completely different guitar, which actually came from the late
Tom
Petty
's collection, and leads to some unique tones on a few tracks, including "The Acid Test Song."
Fitting 14 songs into just under 40 minutes,
Bought to Rot
is simply a great, eclectic collection of songs from one of punk rock's best artists working today, no more, no less. Laura Jane Grace & The Devouring Mothers come to Philadelphia at
Underground Arts
on April 19th.
**Donate $20 or more to Y-Not Radio to receive a copy of Bought to Rot. Click here for details.