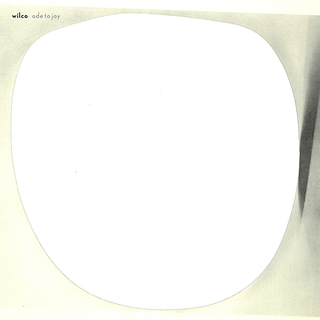 The sound of
Wilco
in recent years has been the sound of a band making itself smaller.
Star Wars
started this phase of the venerable band's career, with its thorny, off-kilter tracks feeling more insular, an atmosphere that continued with the mellower
Schmilco
. Their newest album,
Ode to Joy
, sustains this development of seeing how inward-sounding a six-piece rock band can get.
It is certainly of a piece with
Jeff Tweedy
's recent solo album
WARM
(and its companion release
WARMER
). At some point in this recent era, Tweedy changed his singing style, primarily staying in a hushed tone and rarely truly singing 'out' anymore. This makes for closer, more intimate listening, but now he can sing so softly at times, his words just float by.
Ode to Joy
's "Quiet Amplifier" is the song title that best describes what may be Wilco's darkest album. The shuffling "Before Us" finds Tweedy sadly resigned to asking, "Remember when wars would end? / Now' when something's dead / We try to kill it again." "White Wooden Cross" is a sad meditation on the potential loss of a loved one, with the question, "What would I do? If a white, wooden cross meant that I'd lost you." Lead single turns the sentiment "Love is Everywhere" ominous with the parenthetical "Beware."
Nels Cline
's distinct electrical guitar pops up where you least expect it to jolt the listener, such as in the fuzzy shuffling "We Were Lucky" and current single "Everyone Hides." The latter is certainly the only upbeat, jaunty song on
Ode to Joy
and examines the slipperiness of creating your own identity (plus it has a very fun video). Wilco have morphed time and again over the years and their music and talent could take them in a completely different direction on their next release.
Ode to Joy
fits with the last 5+ years of Tweedy's career, but I'm interested if his music stays with this quieter vibe or gets a shot in the arm.